Juice Media Update & Introducing: Honest Government Ads
Hey everyone! It feels like ages since I posted anything on the website. Sorry.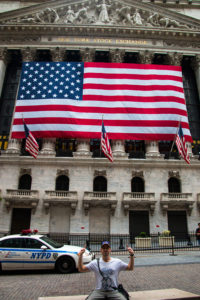 But I haven't been idle these past few months. I've taken some time to sort out a few things – spent time with my parents; exercised; took time to think; went to Berlin for a final Live Rap News show (check out some highlights here!); had my first ever visit to Murica (and Montreal) which was truly inspiring and energising. And now that I'm back home in Melbourne I'm ready and pumped to get the Juice blender back into action.
Some of you will have seen that I've already started uploading new videos:
The first new series that I've launched is called HONEST GOVERNMENT ADVERTS (HGAs for short) and it's been getting a great response. I really enjoy making these: i love the concept of honest government propaganda (something there's far too little of in our lives); and I especially love how quick and relatively easy these videos are to make.
So far I've made 3 HGAs (I'll post links at the bottom of this post). They're all about Aussie issues, but now that I've tested the idea I'll be expanding to make HGAs for many other countries, starting with USA, UK, EU, Canada, Israel, and many others.
Do you have an idea for an HGA for your country? If so, I'd love to hear your suggestions. (Keep in mind though, HGAs need to be short, ideally under 2 mins, so topics need to be quite specific and focused!)
That's not all. I'm in the planning stages for a new JUICE RAP NEWS episode. It's not 100% confirmed yet, but I just wanted to let you know that sooner or later Rap News will probably make a come back. I'd like to start off with just the occasional broadcast (think Rap News in the early days), and if things go well it might become a regular series once again down the track.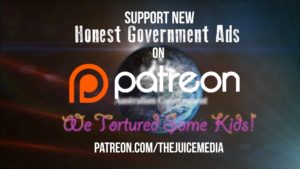 Now a couple of important things before I sign off:
I will always make sure Juice Media videos are available to everyone for free – for as long as I can. But if you really enjoy the videos I make and you want to make sure I can keep making them, then please become a patron of the Juice Media.
For as little as spare change of $1 per video from a fraction of the people who regularly watch Juice Media content, I can keep the lights on every month and pump out regular new vids.
Thank you to the 111 Patrons who already supported the making of the latest HGAs – you are awesome humans!
Lastly: please follow the Juice Media on Facebook, Twitter or YouTube. I will post updates on the website as often as I can, but I don't always do this in a timely fashion. So if you want to keep up to date with new videos, follow the Juice on one or all of those pages. (At some stage I will also update the website, but this is a bigger job which will need to wait till I have more time!)
I am really looking forward to embarking on the next Juice Media chapter and I'd just like to say once again how grateful I am to all of you who sent encouraging comments, sage advice and enthusiastic suggestions after Rap News concluded. It's been a great source of inspiration over the past 10 months.
That's all for now. I'll leave you with links to the first 2 videos in the Honest Government Ads series. I hope you enjoy them and I'll see you again on the next upload.
Watch all the Honest Government Ads here
Giordano